Our customers get short and long-term executive rentals done right: flexible, hassle- free and luxurious. We have a large selection of furnished and unfurnished premiere executive suites in Calgary with the service and quality to give you an exceptional stay in our city.
We know there is no place like home, but we offer the next best thing -welcoming, distinctive, always impeccably clean and affordable 'home-away-from-home' executive rental apartments.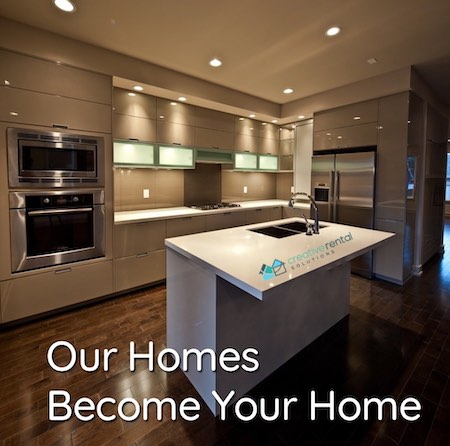 Creative Rental Solutions is a full-service company that specializes in the leasing and management of furnished and unfurnished apartments, condos and houses for short or long-term rental.
Whether furnished or not, our goal is to provide you with the easiest and fastest solution to your Calgary rental accommodation needs. We have the best locations in the city, from the city's top builders with top of the line furnishings, modern artwork, design and decor. Every furnished rental we offer has been carefully selected to offer you the highest quality and value.
We know it's not always easy to leave the convenience and comforts of home behind to relocate to an unfamiliar city. Even moving out of your own home in Calgary because of a major renovation can be very disruptive to family life.
That's why Creative Rental Solutions is here for you. We'll handle all your apartment, suite, condo or home rentals so you can focus on your work and life. Give us a call today to discuss your apartment rental requirements in Calgary. Creative Rental Solutions will find you the perfect home-away-from-home.